I warn you this is a bit long winded….
We made our way up to Joburg for the weekend to watch one of our old favorites playing live… namely the Red Hot Chili Peppers. Unfortunately what started off as a straight forward trip away turned into something quite the opposite.
Firstly Park and Ride buses available at R120 per person ??? well I don't know about you but that seems a little steep, I know there have been many complaints about this, but hey there is only one service so they have the monopoly to charge what they like.
Turns out closer for me to drive to the stadium than the park and ride venue, once again I logged onto Computickets website to try and buy a parking ticket.
Going through the options I see there are tickets priced from R50 – R500, but the website doesn't give you any idea of where the parking is actually situated in relation to the Stadium, needless to say I scratched googles head and still couldn't find any information other than that one of the options was the disabled option. Seems Big Concerts posted a map of the parking the following day on Facebook (Friday, aka day before the event) having a look there we decided the R120 tickets was a good deal, booked and expected to be able to use the print at home option, as we had for the actual concert tickets, well no such luck. We would just have to find an outlet in JHB and collect it there.
Tickets in the bag plans arranged and we head off to the stadium at around 4pm to miss the traffic and chaos that normally follows these events. The road that was supposed to be closed from that morning was open for traffic and the only thing hindering that was the mass of 'car guards' running around telling you where they want you to park. I had no idea if I was in the correct parking area designated for my R120 ticket. It seemed close enough for my liking and I parked the car closest the exit for an easy escape. The 'car guard' then insisted I give him the ticket and told me he had no money and needed a beer or R30… really?!?! After I made it clear I would give him money after the show provided he were there, he proceeded to tell me he wanted the ticket because he needed the money, I'm more than sure these guys put me in the R50 area and thought they would get my ticket and sell it to some other sucker passing by.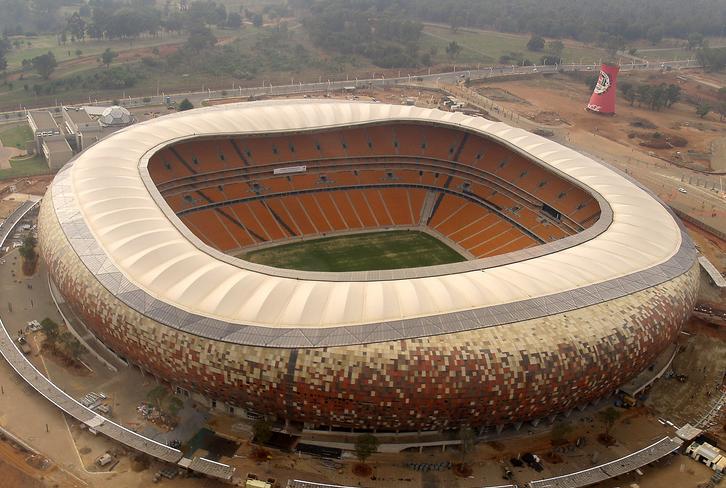 Bit of a march to the stadium over the road along a dodgy grass path that had a number of pieces of steel rod sticking out at random intervals. Find the beer tent, perfect lets get a drink… R30 for a '500ml' Castle Draught… that was in actual fact a 440ml can of normal Castle Lager, gee thanks guys. Didn't have many of those.
Eventually the time came where the gates were opened and people started heading through like a heard of goats. We didn't rush in but waited a while before joining the queue for gate M (the allocated gate for general standing and golden circle). Following the maze of crowd control fences through a number of security guards who really didn't seem to know what they were there for, I didn't see anyone's bag getting searched on my way in (this was later confirmed by some concert goers). Luckily on exiting the maze we got handed our wristbands, which from reports not everyone had the privileged of receiving. All we see ahead is a banner saying Golden Circle, oh dear where do we go, along with a lot of other people we were lost and felt we had gone the wrong way, some people turned back we chanced it and followed the GC signage and it turned out to be right in the end.
We needed to get to our allocated turnstiles and get into the stadium, taking note of the numbers on our tickets we headed to turnstiles 15-19, 19 had a HUGE crowd in line, if you can call that a line, we tried to make our way to turnstile 18-15 but realized the organizers had fenced off the are after 19… Great, well done Big Concerts, after finally finding someone that looked like he had an IQ higher than a Goldfish, he proceeded to tell us to use any turnstile. Great lets join another Queue, get to the front and we cant get access, the scanner wont let us and numerous others through, get sent to another turnstile, same story, finally 4th time lucky we managed to get in.
The rest was pretty straight forward for us found the beer found the food found the field. One thing which was a tad annoying was the fact that we couldn't take water or cold drinks onto the field with a lid, so you couldn't stock pile your drinks as easily as I would have liked. Easily avoided, we just removed all our lids and popped them into our pockets before getting to security. Now separate stairs for going down to and up from the field was a bit of a hassle with an overfilled field, try fight your way through the drunken masses with a petite gf in tow, not so ideal or fun for that matter. The amount of people smoking, and that sweet scent of weed filled the air, something none of the security personal felt obliged to act upon, given that this is a non smoking venue, this was definitely not appreciated.
Band wise The Muffins weren't too terrible, Die Antwoord sucked, that vulgar drivel that eminated from their mouths was utter crap and the images that they displayed on their screens matched that attitude. No real performance in my opinion. Next up the headliners,… The band everyone was there to see, RHCP… not much of an introduction, no real interaction with the crowd, Flea made a comment here and there but really seemed a bit mechanical and rehearsed, not at all what was expected from a band known to be unpredictable and unrehearsed, slightly disappointed.
That matched with the fact that the first song sounded absolutely terrible due to the bad sound engineering and mixing that was done, all in all left us with a slightly bitter taste in our mouths. Don't get me wrong RHCP were awesome but I think we just expected a bit more. Kings of Leon outshone them performance wise and I have definitely been a fan of RHCP far longer than KOL.
To summarize, Big Concerts really needs to start listening to concert goers, there was a lot of talk about how overcrowded the standing areas were (I tend to agree with this) The lack of signage for parking areas, and the lack of control in stadium. Its only a matter of time before a serious accident happens and then what will Big Concerts have to say. There was even a stampede scare and talk of gates not being opened and the list goes on…. I feel this post is long enough as it is, there is enough publicity on all that went down and unfortunately most of it was negative, check out BC's facebook page and its clear something needs to be done, even thought Big Concert seems to be turning a blind eye.